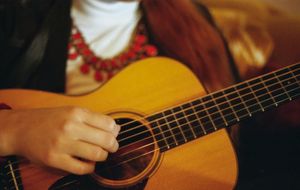 "

Yosi's voice is 'the clear, cool sound the moon would make if it could sing.'" - JB Eckl (Santana, War)
Yosi Mesbah is a truth-telling troubadour in the classic mold, but with an eclecticism and an international sense that lend her music a perspective unique among indie folk artists.
Born in Moscow, Idaho, raised in the Pacific Northwest and shaped by her Iranian-American heritage, Yosi is inspired by the music of Joni Mitchell, Madison Cunningham, and Nina Simone. She is as likely to be found singing with a group of teenagers around a campfire as illuminating a smoky bar on the wrong side of the tracks. 
After a prodigious start as a cellist and an early commitment to her identity as a singer-songwriter, Yosi hit the road young and hasn't stopped moving. She tells universal stories of struggle from a female perspective, creating spaces where raw human experience can be collectively explored, reflected upon, and eventually uplifted. But what keeps audiences enthralled is simply that voice —a voice that collaborator JB Eckl (Santana, War) calls 'the clear, cool sound the moon would make if it could sing.' 
Yosi's first full album, Cellar & Sky, was recorded in Nashville, Tennessee. To support the album, she independently booked and played a 30-date, cross-country tour, which led to her live album 'Troubadorial Walkabout: Live From The Road.' 
Yosi has performed at homes and venues across the United States including the House of Blues in Los Angeles, and at various events and festivals such as FAR West Music Conference. Her music was featured in the CW's series 'My Last Days' and can also be found in 'Facebook Sound Collection'.
"

When Yosi sang her first notes into that Shure SM-58, the hairs raised on the back,of my neck- a signal I use to decide whether I want to try and book someone for our venue. As she continued, I thought, "I'm in the presence of prodigious talent." Not only a complex voice and phrasing, but extraordinary lyrics, truly sung poetry." - Gary Adest
— River Ridge Institute
Music
0:00/3:38

0:00/3:12

0:00/2:10

0:00/3:14

0:00/3:21